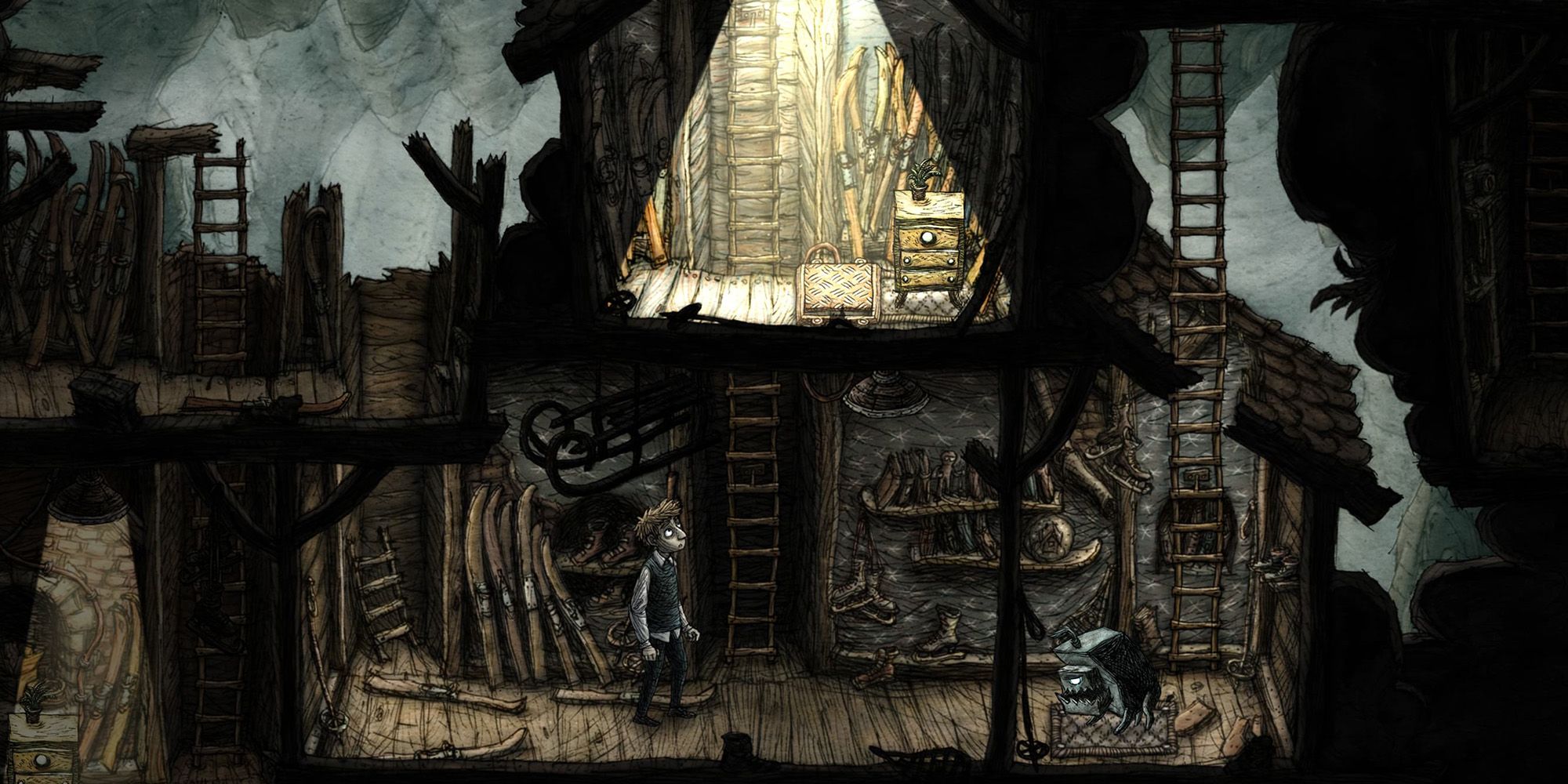 Apple Arcade may be a relatively new service, but it is slowly rising up the ranks as a must-have for gamers by adding a large library of games that many will want to check out. They have more recently added some horror games that fans of the genre will definitely want to have available for playing.
Related:Horror Games With Great Sound Design
While it isn't the genre of games most heavily focused on by the service, there are a number of options available for anybody looking to try out some spookier games after getting a subscription to Apple Arcade.
7/7

The Get Out Kids

While it isn't the most terrifying game in the world, The Get Out Kids is an almost Goonies-style adventure set in the 80s. A pair of kids & their dog sneak out to try & see a late showing of a new movie (named Ghostblasters in a not-so-subtle nod to Ghostbusters) & get caught up in a mystery when their dog goes missing.

Involving a creepy groundskeeper & a series of puzzles & hidden object searches, the game is a nice piece of nostalgia for players as well as a fun & unique-feeling game that doesn't have many rivals on Apple Arcade.
6/7

Castlevania: Grimoire Of Souls
A franchise that is almost synonymous with the horror gaming genre, Castlevania has long pitted players against the forces of Dracula. This side-scrolling action game takes place after Dracula has been locked away, & retains much of the appearance of the original games which will make this a fun adventure for fans of the franchise.
The game was originally pay-to-play & thus there are some aspects like weapons needed for later stages of the game, which players will have to work to unlock. This isn't a problem for most players but can be a grind for players looking to quickly zoom through a variety of games on the Apple Arcade platform.
5/7

Murder Mystery Machine
Fans of story-driven visual novels may like the style of Murder Mystery Machine. Treated more like a game version of Law & Order than anything else in the gaming world, players have to explore crime scenes & interview suspects along their way toward solving a variety of murder cases.
The game isn't the easiest to solve, though the player detective's partner will give clues occasionally if a difficult problem persists in not being solved. It also releases in an episodic format similar to the style of Telltale Games, which fans of that style will appreciate greatly, & the mind-map puzzle style is something a little different from what players are used to, which many have already praised as a great addition to the game.
4/7

Neversong
A fascinating game that tries to delve into some darker & deeper themes of games like Little Nightmares. Neversong is about a young boy who wakes up confused & seeks out the secrets of Blackfork Asylum as he is forced to traverse the terrifying halls & puzzles within. Dealing with the creatures & many bosses situated through the levels of this game is an unnerving experience.
Related:Every Gaming Subscription Service
Alongside his trusty baseball bat & several friends, Peet has to tackle the reasons behind the violent nature of adults. These themes & the hair-raising locations help make this feel like a true horror game, though the puzzling side that players expect this sort of game to have falls a little to the wayside & isn't as unique as in some similar games.
3/7

Survival Z
Without as many jumpscares or puzzles as many of the other horror games available on Apple Arcade, Survival Z nonetheless belongs in the horror genre. A tower defense game that features multiple hordes of zombies charging at a pair of kids trying to survive & reach a location filled with resources.
The game doesn't have much story but has been a huge success for Apple Arcade. The fun art style & capable mechanics make it worth the time for fans of tension-building waves of enemies or tower defense games.
2/7

Creaks
For fans of classic puzzle platformers that use a creepy, dark world such as Little Nightmares, Creaks is something that will intrigue & delight. The player character is sitting in his house when he hears mysterious noises behind a secret door & finds himself in a cavernous underground world filled with strange bird people.
Shape-shifting monsters & a creepy atmosphere make this a great piece of fun for horror genre fans, but also for anyone who loves a great puzzle because there has been huge praise for Creaks ability to create unique, intricately designed puzzles that will keep players guessing.
1/7

Inmost
Possibly the best horror game of all the Apple Arcade ones available so far is Inmost. This is another puzzle platformer that focuses on a creepy, atmospheric style & manages to deep-dive into an intriguing story about a little girl, a knight, & a w&erer. All three are playable characters in this cinematic work of art.
From luring enemies into traps to solving puzzles around the environment & finding ways to utilize the tools at the disposal of the various characters, players will get a huge kick out of this if they enjoy similar games. Inmost is also available on Steam for anyone looking to try out some Apple Arcade games on their PC.
Source link
gamerant.com
#Apple #Arcade #Horror #Games #Ranked