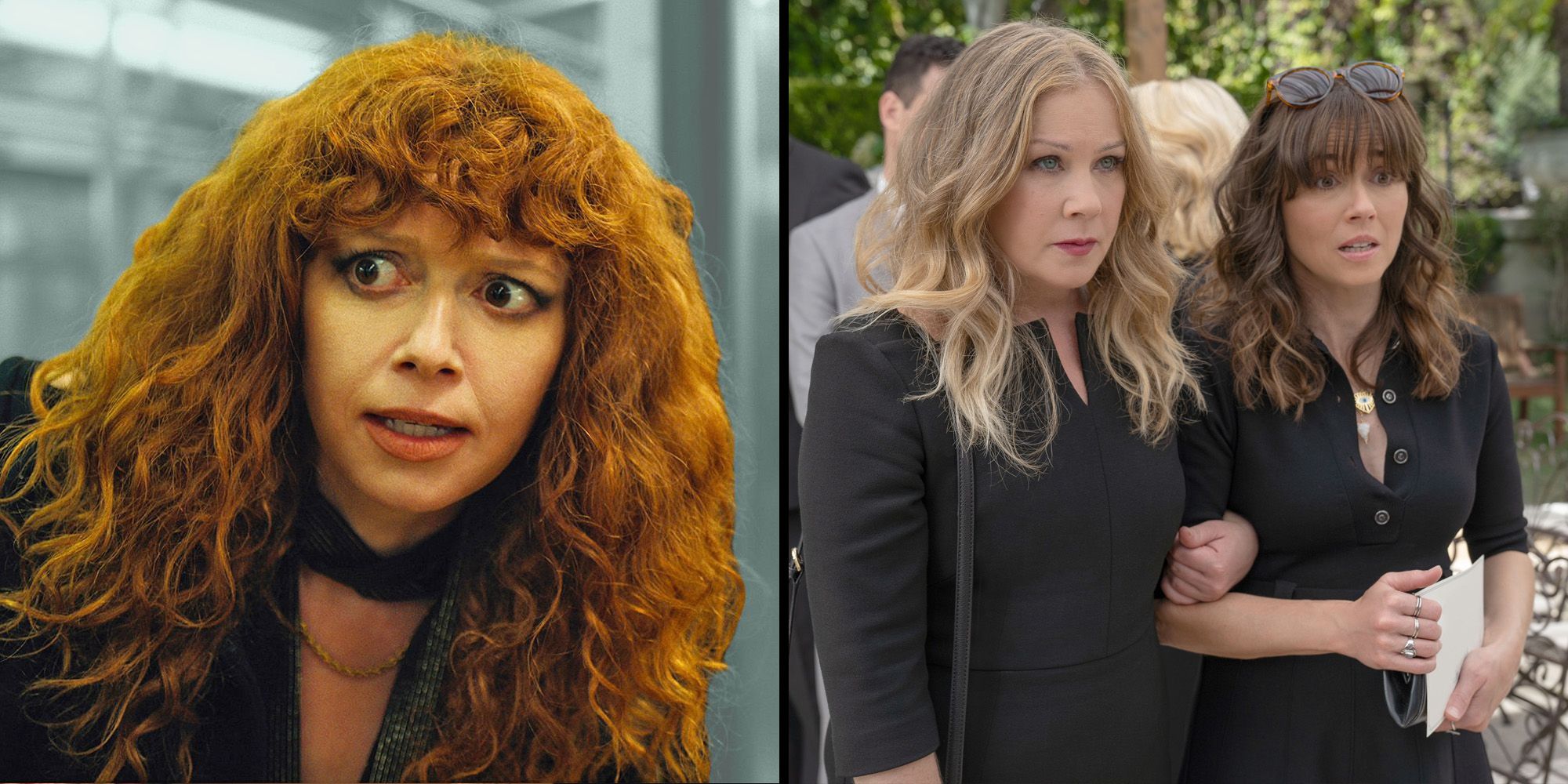 Dead To Me is a newly released Netflix black comedy series that is a mix of murder mystery & serial killer suspense. Christina Applegate stars in this mass of psychological drama as Jen Harding, a grieving widow whose fiancé was lost in a tragic car accident. In an attempt to grieve unapologetically, Jen joins a support group trying to reclaim some sanity. However, Jen is caught off guard when she is approached by a group attendee named Judy Hale, played by Linda Cardellini, who becomes the life raft that Jen has been looking for.
RELATED: Underappreciated True Crime Movies
Jen & Judy's friendship quickly blossoms as they match each other's chemistry. Unfortunately, things take a drastic turn for the worse as Judy's past begins to rear its ugly head. Dead To Me is a wild ride of lies, murder, & anxiety that will have viewers on the edge of their seats glued to the screen. For fans of Dead To Me & dark comedies alike, there is a multitude of TV shows about dark secrets & dangerous scenarios available to scratch that itch. Here are the best black comedy shows to watch if you like Dead To Me.
7/7

Russian Doll

Fans of Groundhog Day will enjoy this dark take on a time travel series starring Natasha Lyonne from Orange is the new Black as Nadia Vulvokov. The story follows Nadia, a self-destructive software engineer, on the eve of her thirty-sixth birthday.

RELATED: Best Quotes From The Crown Season Five

Nadia tries to rein in her emotions about getting older, & suddenly tragedy strikes when Nadia is struck down by a taxi cab. Surprisingly, Nadia returns to life hours before the accident, once again preparing to attend her birthday party. A journey of nutty antics ensues as Nadia tries to get to the bottom of what's happening to her & try to stay alive long enough to maybe see a new day.
6/7

You
Fans of suspenseful stalker dramas will enjoy this series told from the perspective of the stalker. Penn Badgley plays Joe Goldberg, a well-adjusted stalker obsessed with a young woman named Beck he met at a bookstore.
Joe becomes entranced by Beck & begins to shadow her, trying to take advantage of her likes & dislikes. Joe is surprised to find out that Beck is seeing someone, which forces him to ensure that she realizes their meant to be together. You takes viewers on a wild ride of the thought processes of obsession a psychopath lives by & adds a couple of laughs in along the way.
5/7

The White Lotus
Recently released on HBO, The White Lotus follows a group of vacationers living it up who Approach to a famous resort chain to rest their minds, body, & souls. In an episodic style, the series explores the character's vices & virtues & peeks behind the curtains at what they're hiding or running away from.
In a hilarious, raunchy series, The White Lotus turns dark as doubt, betrayal, & paranoia Open to take over the resort, & lives are changed forever. The White Lotus is a limited anthology series that stars Jennifer Coolidge, Sydney Sweeney, & Murray Bartlet.
4/7

Good Girls
When three Midwestern mothers take fate into their own h&s after struggling day in & day out, they decide to rob a grocery store in hopes of bettering their circumstances. The girls make off with well over what they expected & commence a drastic change in their lifestyles & take care of their needs & the needs of their families.
Unfortunately, things take a turn for the worse when a simple smash-&-grab turns into a heist of drug money, & the previous owners Approach looking—Ruby Hill, Beth Bol&, & Annie Marks star in this tension-filled drama about money & love.
3/7

The End Of The F*cking World
When two runaway teens meet on the road to anywhere, they wind up in a risky situation that puts their lives on the line. Alex Lawther plays James, an emotionally stunted young man who believes himself to be a vicious psychopath. He decides to leave home & venture out on his own & possibly become a serial killer.
RELATED: Most Iconic Secret Societies In TV Shows
However, things take a bit of a turn when James meets Alyssa, a street-savvy young woman, who joins him on his homeless hike. Unfortunately, James & Alyssa l& themselves in Enormous trouble when they Fracture into a vacant household, & the owners make a surprise appearance. The End of the F*cking World is a dark & high-octane series many will enjoy.
2/7

Breaking Depraved
Breaking Depraved is a highly celebrated drama series that has won multiple awards, including multiple outst&ing drama Emmy Awards. Brian Cranston & Aaron Paul star together in this gritty tale of a down-on-his-luck science teacher who is met with Depraved news, diagnosed with terminal cancer.
RELATED: Oscars: Best Underdog Actresses For 2022
Fearing for his family, he teams up with Jessie Pinkman (Aaron Paul) & begins a drug dealing business, taking both on an adventure neither saw coming. Breaking Depraved is a phenomenal piece of cinema that is definitely worth a watch.
1/7

Only Murders In The Building
Three tenants in an apartment complex become tangled in a web of lies, secrets, & murder. Steve Martin plays a struggling author Charles Haden, searching for his muse, who becomes inspired when a murder victim is found just a few doors down.
Charles, along with Oliver Putnam & Mable Mora (Martain Short & Selena Gomez), die-hard true crime fans, Open investigating the murder in hopes of catching the killer & getting rights to the best-selling story. Only Murders in the Building is a whimsical but dark take on the murder mystery genre & is a good series for a late-night binge.
Source link
gamerant.com
#Black #Comedy #Dead