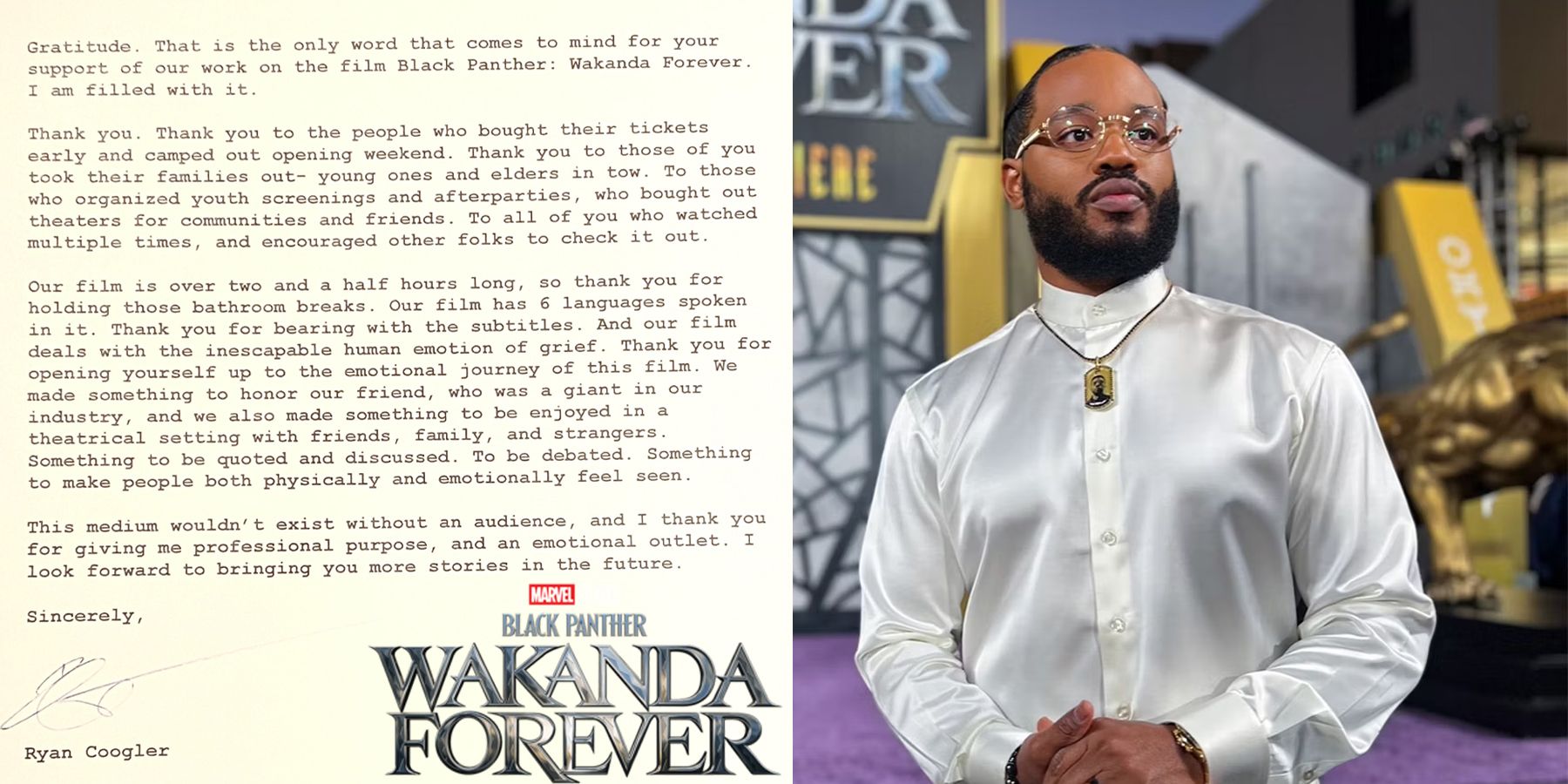 Director Ryan Coogler is grateful to fans for their positive reactions after watching Marvel Studios' Black Panther: Wak&a Forever.
Black Panther: Wak&a Forever is all that Marvel Cinematic Universe fans talk about since the film's release. Many have appreciated the film for its female-centric storyline, while others praised it for honoring Chadwick Boseman's legacy. Whatever the reason, director Ryan Coogler has been paying attention to fans' feedback & has shared a heartfelt message for all those who have seen the film & appreciated it so far.
The struggles of bringing Black Panther: Wak&a Forever to life were not hidden from fans. After Boseman's death, the cast & crew have been quite open about their grief & making Black Panther 2 without him. Some segments in the film display their raw emotions, as their characters grieve the loss of King T'Challa. Coogler recognizes all of that in his letter to the fans & is grateful that the film gave him an "emotional outlet" & so much more.
RELATED: Why Black Panther: Wak&a Forever Is The Perfect Finale For Phase 4
The letter was shared by Marvel Studios on social media for all MCU fans to see. Coogler begins with the word "gratitude," which he claims is what he feels after seeing fan reactions. He then goes on to thank everyone "who bought their tickets early & camped out opening weekend," to those who took their families, those who "bought out theaters for communities & friends," & those who have already seen Black Panther: Wak&a Forever multiple times. He acknowledges that it is a long film, with a runtime of two & a half hours, & thanks everyone for sticking around & "holding those bathroom breaks." But, most importantly, he is grateful to everyone for "opening up to the emotional journey" that the film takes them on.
The beginning sequence of Black Panther: Wak&a Forever is dedicated to Boseman, & his character is mentioned several times throughout the film. When the credits roll, the film is dedicated to his memory. "We made something to honor our friend," writes Coogler, who still gets emotional every time he talks about Boseman during interviews. Black Panther was the first MCU film to have a cast roster consisting of mostly Black actors, & with the sequel, Coogler is grateful to have created something that will "make people both physically & emotionally seen."
Coogler ends his letter with the words, "Wak&a Forever, Chadwick Forever, Long Live King T'Challa." This film truly seems to have been created to honor Boseman & his T'Challa, who will remain alive in the minds of MCU fans forever. Coogler's letter isn't any different & acknowledges that fact. It seems like the perfect way to wrap up the project.
Black Panther: Wak&a Forever is playing at theaters globally.
MORE: 7 Best Marvel Comics Duos
Source: Marvel Entertainment/Twitter



Source link gamerant.com
#Wak&a #Director #Shares #Message