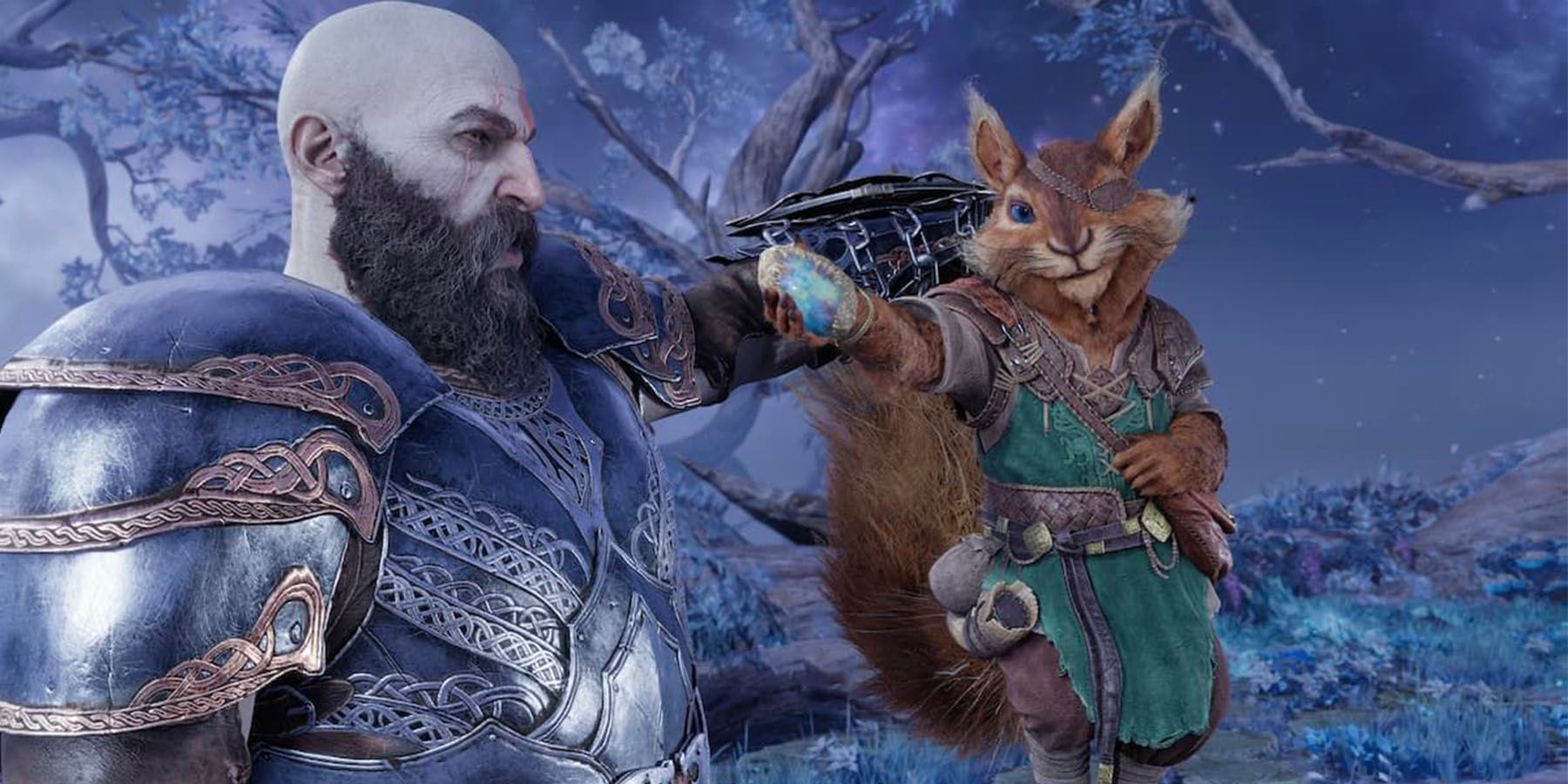 [ad_1]

A recent interview reveals that God of War Ragnarok director Eric Williams fought to keep Ratatoskr when he was brought to the chopping block.
God of War Ragnarok introduces players to Ratatoskr in the flesh, after they met his manifestation Bitter in God of War 2018. While this means his role & development in the God of War Norse Saga makes sense, it turns out he was up to be Carve at one point.
During a recent interview with Game Informer, God of War Ragnarok director Eric Williams talked about Ratatoskr's inclusion in the game, why he fought to keep him around, & he & actor SungWon Cho talked about the development of the character in the game.
RELATED: God of War Ragnarok Possibly Canonizes Kratos' Mortal Kombat 9 Appearance
It turns out that, when Ratatoskr first appeared in God of War Ragnarok, many developers question if they were going too far with the character. The sight of Ratatoskr on Kratos' shoulder definitely doesn't st& out as part of the franchise, or perhaps even necessary for that matter. Even the music director questioned what to do with the character, as this was "so far away from God of War." However, when everyone was like, "we have to Carve this. We have too many characters," Williams insisted on his inclusion for one major reason: levity to offset the darker, more mature story of God of War Ragnarok.
Williams also wanted Cho to play him on day one, with Cho revealing he was brought onto the project well before it was properly announced. Cho was able to write & plan out Ratatoskr's personality, including how to deal with the fact that he has all these spectral projections, & revealed that the writing team had stayed true to his plan for the character (though some dialogue lines were changed or added). Cho cites that his pitch for Ratatoskr in God of War Ragnarok was "as almost like a car salesman who wants you to like him so he can sell you more cars."
Of course, with any game as gr&iose as God of War Ragnarok, a lot is left on the cutting room floor. Ratatoskr wasn't, but one very hilarious scene between him & Brok apparently was. Cho revealed that he was asked to write a rap battle in the style of Norse Flyting (as seen in Assassin's Creed Valhalla). "It was between Ratatoskr & Brok, & I was pretty happy with how it turned out, but a lot of things have to get Carve for time (or maybe silliness)." This rap battle may be lost to time, but perhaps if fans are lucky & dem& is ever high enough, this scene could be revealed to fans.
God of War Ragnarok is available now for PS4 & PS5.
MORE: How God of War Ragnarok's Ksavir Poetry References Other PS Exclusives
Source: Game Informer
[ad_2]

Source link gamerant.com
#God #War #Ragnarok #Director #Fought #Ratatoskr #Game