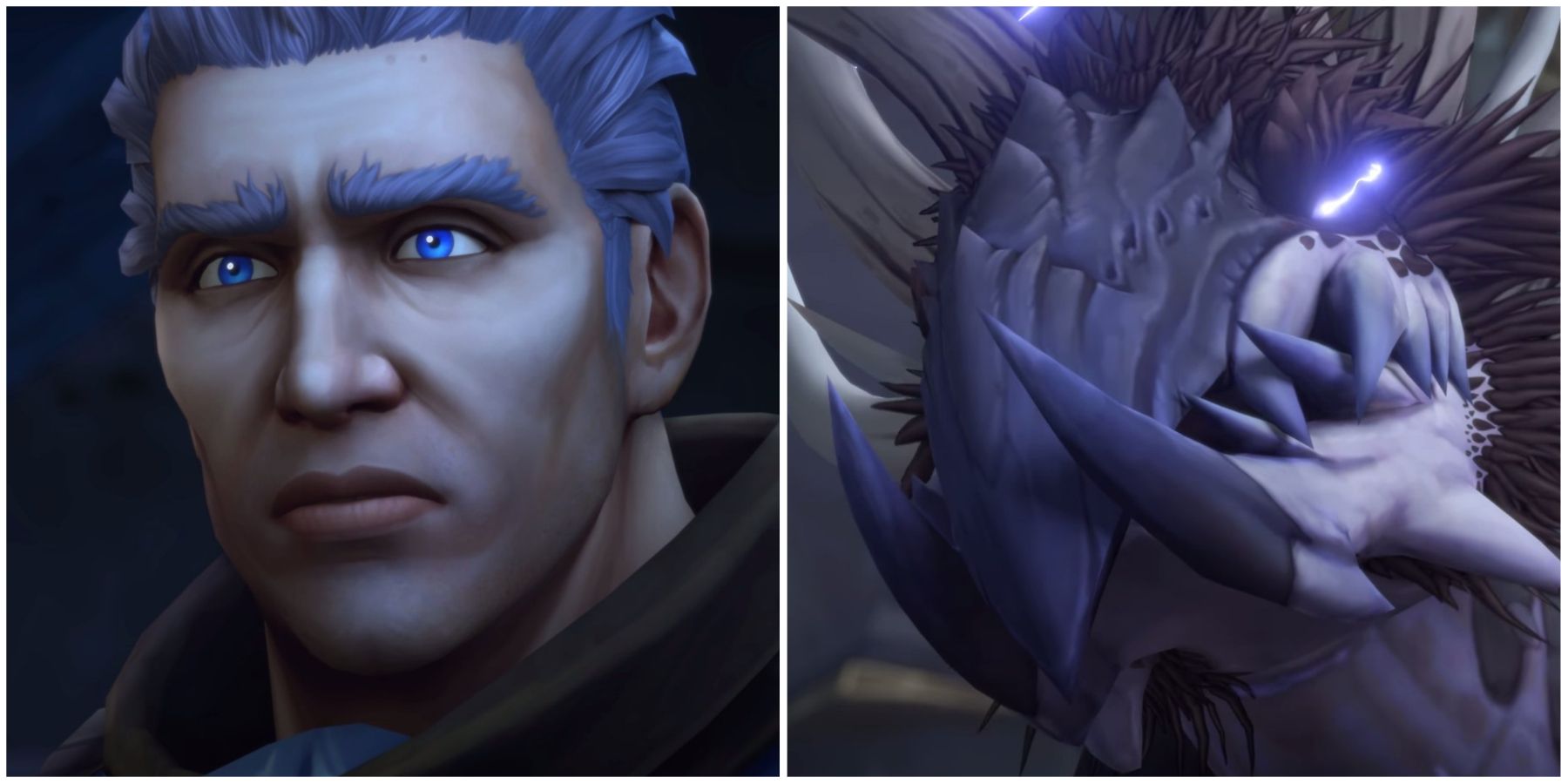 [ad_1]

One of World of Warcraft: Dragonflight's first cutscenes introduces the major antagonist of the expansion, as well as the return of a fan favorite.
The first cutscenes from World of Warcraft: Dragonflight have arrived, introducing some old friends & new threats. The new story cutscenes were added to World of Warcraft as a part of phase two of the Dragonflight pre-patch.
Titled "A Tempest Unleashed," the new story cutscene acts as the introduction to the Tempest Unleashed pre-patch event for Dragonflight. After taking a couple expansions off, Khadgar, beloved archmage & World of Warcraft fan favorite, has made his return to help the Aspects face Raszageth the Storm-Eater, major antagonist & final boss of the first Dragonflight raid.
RELATED: World of Warcraft: Dragonflight Adds New Transformation Mount
Kalecgos, young Aspect of the blue dragonflight, comes to Khadgar to seek his aid after Raszageth breaks free of her prison. Players then witness a conversation between Alexstrasza & the other World of Warcraft dragon Aspects as they discuss the ferocious Storm-Eater. Youngest of the Primal Incarnates, Raszageth represents a significant threat to the Aspects, especially considering the diminished state of their powers & their scattered flights. After hearing Raszageth's threat to "cleanse the world of the Titans' stain," Khadgar agrees to aid his old friend in battling Raszageth & her Primalists.
During the cutscene, Alexstrasza explains the history of the Aspects & the Primal Incarnates: they were once as close as clutchmates, but disagreements over the dragons' partnership with the Titans led to a bloody war. The cutscene shows the fear & trepidation Alexstrasza & Nozdormu sense in facing the ancient threat, especially in regard to Iridikron the Stonescaled. Presumably the eldest & most powerful of the Primal Incarnates, his name was enough to cause Alexstrasza to visibly wince. Players can expect Iridikron to be a major threat later in Dragonflight.
A second cutscene plays at the end of the Forbidden Reach–the dracthyr starting zone in Dragonflight–& shows Raszageth being freed from her prison & defeating Wrathion. As this is only available to dracthyr characters, "A Tempest Unleashed" acts as a summary of the cutscene for everyone else.
Players are already excited to see where these new Dragonflight cutscenes lead. From the Dragonflight launch cinematic & this cutscene alone, many players already think Raszageth is a more terrifying & compelling villain than the Jailer was in Shadowl&s. Considering she is the weakest of the bunch, players are also excited to learn more about the other Primal Incarnates. Players are already speculating a connection between Iridikron & Galakrond considering the similarities in name & their shared legendary "hunger." Many are also excited Khadgar is back, & missed him dearly since his last major role in Legion. In just a couple of weeks, players can journey to the Dragon Isles with their old friend, unlock the secrets of the Dragon Isles, & face Raszageth & the Primalists.
World of Warcraft is available now for PC. Dragonflight launches on November 28.
MORE: World of Warcraft: What Makes a Dragon's Visage Important in Dragonflight
[ad_2]

Source link gamerant.com
#Dragonflight #PrePatch #Cutscene #Introduces #Friend #Foe